Synthetic Ice Rink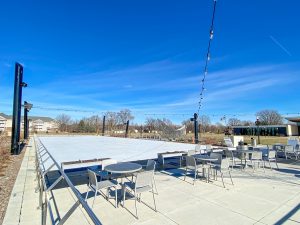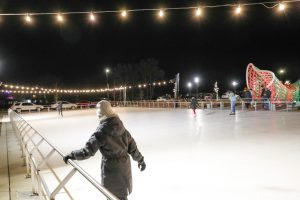 Address: 6245 Merle Hay Road, Johnston, IA 50131
Skate rink hours: 10:00 a.m. to 8:00 p.m. (If you own your own skates, you can skate for free, seven days a week.)
Skate rental: $5
Skate rental hours:
Fridays: 5:00 to 9:00 p.m.

Saturdays: 12:00 to 9:00 p.m.

Sundays: 12:00 to 6:00 p.m.
Holiday hours:
December 26 – 29. 12:00 to 6:00 p.m.
Private party rentals
The rink can be rented out for birthdays, holidays and team-building parties. There is no indoor area for the parties. To learn more about party rentals, visit www.backpocketpinandpixel.com/parties. 
Contact
There is no minimum party size for the rental. Private rentals are not allowed during normal skate hours (see above for hours).
Skate Rink Rules
This rink is not supervised. All skaters are advised that they are skating at their own risk.

No shoes on the skating surface.

Protective safety gear (coat, hat, gloves, helmet, mouth guard, etc.) is recommended on the rink at all times.

No food, drinks, or pets are allowed on the rink.

The rink is not to be used for hockey. Know the range of your ability while on skates and avoid other skaters.

Skaters and spectators shall not sit, hang, lean on, or leave items on the railings.

The rink may be periodically closed for weather, maintenance, or special events.
If you have questions or concerns, please contact the City of Johnston Parks & Recreation Department at 515-727-8091.