Yard Summer Concert Series

The Yard Summer Concert Series
Presented by The Cork 50131
Come and be part of an exciting summer of music at the Yard Summer Concert Series! Featuring talented performers from different parts of the country, such as Los Angeles and Nashville, these concerts will create a perfect ambiance for your warm summer evenings. The shows are scheduled from 7-10 p.m. on Saturday, July 22, and Saturday, August 26, making the Yard the place to be. Don't miss this opportunity to have fun with your friends while sipping on a cold drink and creating unforgettable memories. Admission is completely free, and no tickets are required.
---
Beer and wine, 𝐨𝐧𝐥𝐲, may be consumed during permitted special events when specified in clearly delineated alcohol consumption areas, but please note that open containers are only allowed in the Yard area (the green space just west of City Hall) when signs are present and not permitted outside of those boundaries. We want everyone to have a safe and enjoyable experience at the Johnston Town Center and be considerate of the family-friendly nature of events being hosted in the Town Center. Coolers are not allowed at these events. The Cork will be selling beer, wine and seltzers. Drink tickets are $6 each or four for $20. Water will also be sold during the event.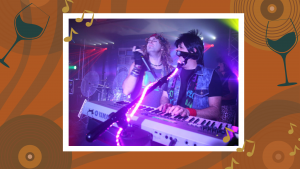 Saturday, August 26
Mixtape is an 80s Rock tribute band based in Nashville whose set list will take you back to the days of Sam Goody, cassette tapes and sweet Trans Ams with hits from Bon Jovi, Van Halen, Journey, REO Speedwagon, The Outfield, Poison, Kiss, Dire Straits, Bryan Adams, Rick Springfield and many more.
Thank you to our sponsors:

---